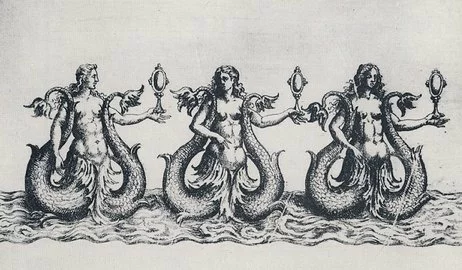 Post By Natasha Patel

Like an only child who creates siblings by inventing imaginary friends, I, a nascent guitar player, have invented my own imaginary band. It's called The Accidental Sirens. We are all women, dressed in flowery gowns and bearing wispy hair crowned by fig leaves. And on a good beat, we can be very alluring. On occasion, our musicality can overwhelm our audiences, since we don't have complete control of our own power.  But we are resilient. This is our track list for that special someone inside a smoky cabaret.

1) "The Lion, The Beast and the Beat," by Grace Potter and the Nocturnals.

This song is designed to tantalize and enchant, while simultaneously signaling that we are primed.

2) "Coming for You," by Von Grey.

No matter how far you run, we're coming for you. By horse, flying carpet, or a Chevy Astro.

3) "Tales That I Tell," by He's My Brother, She's My Sister.

Guess who we are? Games are fun. Read between the lines and our minds.

4) "Green Garden," Laura Mvula.

For when you have us entirely figured out.

5) "Next to Me," by Emelie Sandé.

And we can brag to the mermaids, harpies, and nymphs about you.

6) "Pretty Runs Out," by Amanda Shaw.

It's important for us to be entirely honest with you. Once we locate Persephone, our wrinkles will appear.

7) "Shooter," by Mia Borders.

What? You don't care for honesty. While we only believe in such savagery in times of necessity, that line can be blurred.

8) "What Good Am I?" by La Luz.

Self-reflection is important after a tragedy. It also feeds our creativity and ability to write the next album.

9) "Traces of You," by Anoushka Shankar

See, we ruminate on our losses.

10) "Ragamuffin," by Selah Sue

In staying true to our roots and mission, we will find Persephone.