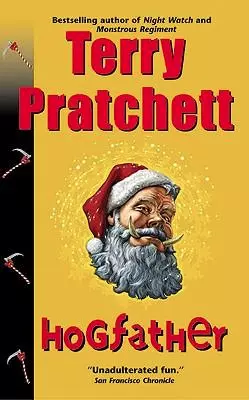 Post by Rebecca Demarest

It's December 24th, and, for me, that means a return to my favorite Christmas classic: Hogfather, by Terry Pratchett. I know it's not a traditional Santa-and-cookies tale, but this delightful parody of Christmas cheer has some of my favorite lines in all of the Discworld books.

It starts with the Auditors (of life, the universe, and everything) hiring the Assassins' Guild to take out the Hogfather, Pratchett's version of Santa. The Auditors think that by ridding the world of this symbol, they'll rid the world of a measure of messy belief. Unfortunately for them, the removal of the Hogfather only causes loose belief to fly around and incorporate as random entities (Bilious, the Oh-God of Hangovers is a personal favorite). Ultimately, Death himself decides to take a hand in things and make sure the children still get presents, thereby ensuring belief in the Hogfather.

Full of social commentary on commercialism, religion, belief, the power of the human imagination, and the importance (and awkwardness) of family during the holidays, Hogfather should be on everyone's reading list at this time of year. Of course, if you don't have time to sit down and read (because you're wrapping presents or baking ninja-bread cookies) you're in luck, because the BBC turned this book into a delightful miniseries years ago.